Profile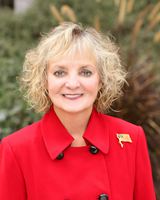 Ruth Wong
Director, Military & Veterans Affairs
Museum Of Natural History

General Wong completed a distinguished career in the United States Air Force retiring as a Brigadier General in September 2001. She served as Assistant to the Air Force Surgeon General for Medical Readiness and Nursing Services, Aeromedical Evacuation Flight Commander in the Persian Gulf during Desert Shield/Desert Storm and was selected to become one of the first nurse practitioner's in the Air Force. General Wong began her career with the County of Los Angeles in 2001 in the Department of Mental Health. She promoted to the Chief Executive Office (CEO) in 2002 and worked there until she was selected as Acting Director of Military and Veterans Affairs in January 2013. She was appointed by the Board of Supervisors as the Director of Military and Veterans Affairs in July 2013. She earned a Master of Public Health degree from the University of California, Los Angeles and an undergraduate degree from Occidental College. She received her nursing education at St. Mary's School of Nursing in Chicago and completed her nurse practitioner studies at the University of Virginia. Major awards and decorations include the Distinguished Service Medal, Legion of Merit, Meritorious Service Medal, and the Kuwait Liberation Medal. She received the Lt. General Charles H. Roadman, U.S. Air Force Surgeon General, Mirror Force award upon retirement.