Profile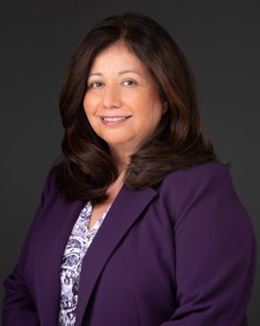 Arlene Barrera
Auditor-Controller
Auditor-Controller
Arlene Barrera was appointed to her current position of Auditor-Controller (A-C) in 2019 and is responsible for overseeing a department with 634 budgeted positions, an annual operating budget of $110 million, and an additional technology budget of $53 million. Arlene began her career in 1986 with the A-C's Audit Division where she was responsible for performing audits of social services departments and special projects. She has also worked in the Department's Disbursements Division, leading a team to help implement the Accounts Payable module of eCAPS in 2005.
In 2009, Arlene transferred to the A-C's Property Tax Division, where she managed staff responsible for handling property tax refunds, and distributing approximately $22 billion in property taxes to over 600 taxing jurisdictions including cities, schools and special districts.
Arlene is responsible for overseeing the issuance of Los Angeles County's Comprehensive Annual Financial Report, Taxpayers' Guide, and Single Audit Report. Arlene serves as a member of the County's Deferred Compensation Plan Committee and the County's Claims Board Committee. She also assists in representing the County before bond rating agencies and County bond investors.
Arlene holds a Bachelor of Science degree in Business Administration from California State University at Dominguez Hills and is a Certified Public Accountant. She is a member of the American Institute of CPAs, Government Finance Officers Association, and the State Association of County Auditors' Executive Committee.